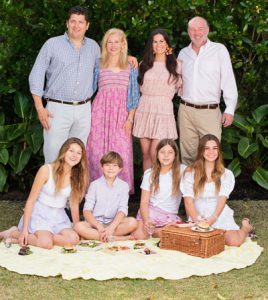 Hanley Foundation 2021 Family Picnic – Pick The Date 
Chairpersons: Kelly and Joe Rooney, Ann-Britt and Christian Angle
Honorary Chairpersons: Abigail and Hampton Beebe
What: Stay home and enjoy a picnic basket from SandyJames Fine Food & Production delivered to you at your convenience.
Mothers' Day Edition: For a limited number of guests, we'll deliver picnic baskets during Mothers' Day weekend for the special mothers in your life. Deadline to order is May 3, 2021. 
WHY: To underscore the foundation's belief that "family time is time well-spent," this year's Pick-the-Date Picnic will be delivered to you for a safe, fun way to enjoy quality family time. The picnic will benefit substance misuse prevention programming throughout Florida.
Choose Your Spread – Picnic Basket Options:
Basket #1: Tempting Tenderloin (Includes Colorful Charcuterie Display, Sunshine Turtle Creek Farms Salad, Tenderloin Sandwiches, Orzo Salad, Fresh Berries, and Assorted Cookies and Brownies).
Basket #2: Savory Seafood (Includes Baked Brie with Raspberry Preserves and Baguette, Shrimp Cocktail, Ahi Tuna Nicoise Salad, Fresh Fruit Sphere Salad, and Assorted French Macaroons).
A La Carte: Bottle of Moet Chandon White Star Brut
CONTACT: Our Event team at 561-268-2355 or Events@hanleyfoundation.org.