When patients cannot afford treatment, Hanley Foundation provides scholarships to individual treatment centers for lifesaving care.
With ongoing support from our generous donors, the Lifesaver Scholarship Program helps more than 500 people every year get access to quality substance use treatment they couldn't otherwise afford.
Play Video
Watch Amy's Story
"I am alive and well today because of the lifesaving work this organization does."
Amy, Lifesaver Scholarship Recipient
Affordable Treatment Options
Everyone deserves access to the treatment they need, no matter their financial situation. That's why we've partnered with 100 respected and accredited treatment facilities across the nation to provide scholarships for care, covering up to 80% of the cost of treatment.
Donor Funding Model
The Lifesaver Scholarship Program is fully funded by Hanley Foundation's donors. These incredibly valuable gifts come from a range of sources, including individuals, corporations, and foundations whose donations enable us to provide treatment scholarships to those in need.
"Thank you for the help I needed to stay alive."
Richard, Lifesaver Scholarship Recipient
"I don't know what I would have done without this lifesaving gift!"
Kasey, Lifesaver Scholarship Recipient
"Hanley helped me get through the darkest time of my life"
Deborah, Lifesaver Scholarship Recipient
Impactful Results
Since its inception, the Lifesaver Scholarship Program has provided access to lifesaving treatment with thousands of scholarships.
We're proud to report that 98% of scholarship recipients report an increase in quality-of-life post-treatment.
Current research shows that, when the length of stay is based on the individual's specific needs, longer stays in recovery facilities tend to produce the best outcomes. Understanding these nuances, we offer scholarships that reach through the full continuum of care, from detox to inpatient and outpatient treatment to aftercare and recovery support services.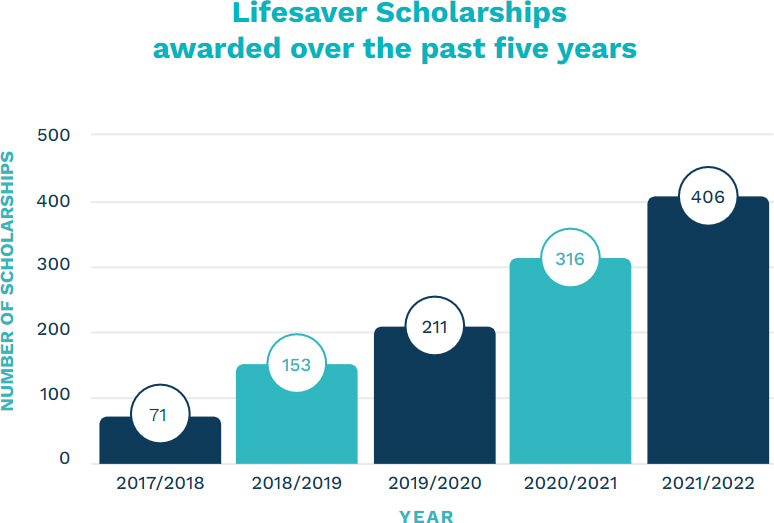 Save a Life
Please consider a donation to the Lifesaver Patient Aid Fund and help a person in need receive lifesaving treatment.
Make a donation
Program Donors
Thank you to our generous Lifesaver Scholarship program donors!