At Hanley Foundation, we Educate, Change Minds, and Save Lives. Since 1984, Hanley Foundation has been working to prevent substance use disorders, training professionals to identify the signs and symptoms, ensuring individuals and families are not kept from recovery due to financial hardship, and changing the conversation to one of understanding and empathy. We have made significant progress against an ever-growing challenge.
Empowering Students is a Key to Prevention
The #HanleyEffect has changed the age of first use – the most important predictive factor in the development of substance use disorders – from 9.5 years in the year 2000 to 14.5 years today.
Hanley Foundation's prevention programs use a research-affirmed model that builds self-confidence, utilizing knowledge and positive peer pressure to empower students.
Middle and high-school students are naturally curious, questioning, and seeking validation. These natural tendencies toward self-discovery enable Hanley Foundation's expert facilitators to challenge the myths surrounding drug and alcohol use by contrasting the actual effects of drugs and alcohol on the body against the pop-culture stereotypes of being "fun" and "cool."
Hanley's programs foster each student's discovery instead of techniques proven to have adverse impacts such as "Just Say No" campaigns, scare tactics, physical relocation, or punishment.
Active involvement by parents and caregivers is critical to the success of prevention programs. Themes such as the benefits of family dinners, open and honest communication, and parental involvement with school, friends, and fun are the building blocks of healthy, trusting relationships critical to keeping kids sober and safe.
Restoring Hope through the Lifesaver Scholarship Program
Making the decision to get help is hard. Being denied quality treatment due to a lack of funds or insurance is devastating.
Hanley Foundation's Lifesaver Scholarship Program's sole purpose is matching truly motivated individuals with the most appropriate treatment facilities, then bridging the gap between the cost and what they can afford to pay.
The results are phenomenal. Over the years, hundreds of people have entered a world of recovery and restoration of relationships with family and friends.
It all happens because of the Lifesaver Scholarship Program's donors.
"Hanley Foundation's Lifesaver Scholarship is the reason I'm still alive. I was told I needed to go into treatment, but I didn't have insurance and couldn't afford to pay for it. My alcoholism carried with it thoughts of suicide -- it is a deadly, destructive disease. Without help, I would have continued on until I died, for sure.

Amy A.

Lifesaver Scholarship Recipient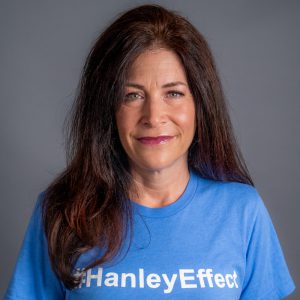 A Vicious Circle: Substance Use and Suicide
Each year in America, more than 41,000 people die by suicide. Twenty-two percent of those deaths involve alcohol intoxication; Opiates, including heroin and prescription painkillers, are now the number one substance found in suicide deaths. Alcohol is number two. And the deaths are rising.
What's more, suicide is the second leading cause of death for people ages 10 to 34 and fifth for people ages 35 to 54.
Despite its widespread and devastating impact on our society, suicide is a topic that remains harmfully taboo.
The Zero Suicide Initiative at Hanley Foundation is bringing suicide out of the dark, training members of the community in how they can help someone contemplating suicide, and training clinical staff to help those in crisis at a more in-depth level.
"Ever since I was a child I suffered from emotional trauma. Eventually, I actually cut my wrists and lay down on the kitchen floor, waiting to die. I know this sounds crazy, but I heard a voice in my head saying, 'You don't want to die. You want more life and don't know how to get it.' Hanley Foundation was there to help me.

Suicide is an epidemic. Our culture has gotten so out of control, so uncertain, so chaotic and dangerous that we lose remarkable people. Everybody that dies touches so many lives -- it just ripples around the globe. I think programs to prevent suicide are vital.

Gary K.

Suicide Survivor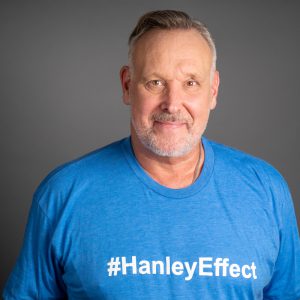 Han·ley Ef·fect
/əˈfekt/ /ĭ-fekt'/
noun:
The power to produce an outcome or achieve a result.
verb:
To cause advancement in the world; bring about.
This is the #HanleyEffect.
Depth. Perseverance. Expertise.
Bold Action. Empathy.
These are attributes that exemplify the work and commitment of Hanley Foundation over its four decades of creating pathways to change for individuals and their families. The #HanleyEffect has changed the conversation around alcohol and drugs, helping generations of people recover from the grip of addiction. The #HanleyEffect has trained professionals and paraprofessionals to recognize the signs, symptoms, and issues surrounding substance use disorders. The #HanleyEffect has started the conversations that are changing stigma to empathy and understanding.
This is the power and impact of
the #HanleyEffect. This is how we do it.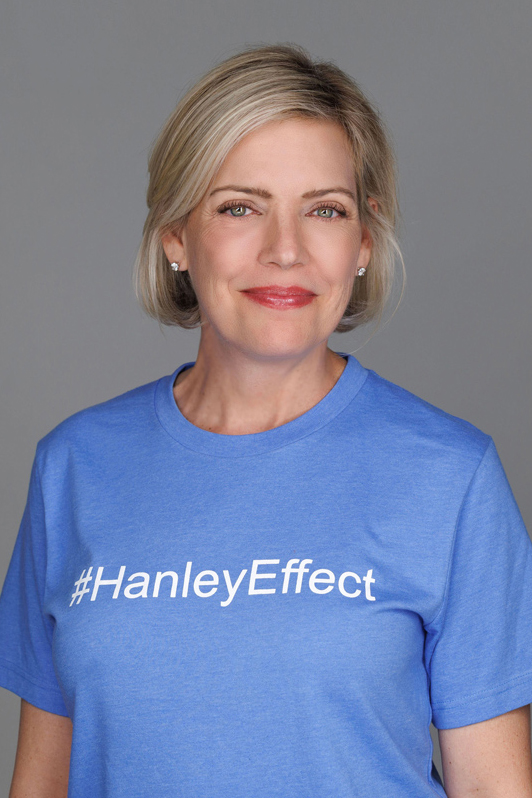 Dear Friends,
Hope provides that glimmer of light and a sense of possibility that things can get better. It is a central component of treatment, motivating individuals to persevere through challenging times.
Our mantra, Restoring Hope, guides the work we do every day, and we are proud to say that we are reaching more people than ever with our prevention programs for children and young adults.
Success measures – such as the percentage of young people who use drugs or alcohol – continue to trend in a positive direction.
Mental health has reached a crisis level. However, we are working hard to address the stigma, helping students, parents, teachers, professionals, and paraprofessionals to identify the warning signs of a mental health crisis as part of our Zero Suicide Initiative.
We are dedicated to ensuring that agencies assess people properly for suicide risk and provide appropriate, patient-centered care. In fact, over the last five years, we've helped over a thousand people get treatment through our Lifesaver Scholarship Program.
In Florida, we are THE active advocates for substance use education, prevention, and treatment. Our longstanding partnerships with organizations working in behavioral health, health sciences, community services, and government, as well as with like-minded nonprofits large and small, give Hanley Foundation the access, expertise, and credibility to make a lasting difference in the way substance use disorders are viewed and addressed.
Our board of directors is stronger than ever, not just occupying seats but speaking up and speaking out, leading with their time, talents, and financial contributions. Their comprehensive knowledge and lived experiences bring valuable perspectives to our organization. Comprised of business leaders, philanthropists, health professionals, doctors, financial experts, and lawyers, our board is committed to safeguarding the trust our donors, funders, and partners have with Hanley Foundation.
"Restoring Hope." You will hear and see those simple yet meaningful words often as we continue to grow. They provide a roadmap for Hanley Foundation's lifesaving work. In the coming months, we will share our plans to continue making a positive impact while expanding into new areas.
We welcome your feedback and suggestions, and look forward to working together to create a better future for all we serve.
Thank you for your support.
Rachel Docekal, MBA, Ed.D.
Chief Executive Officer