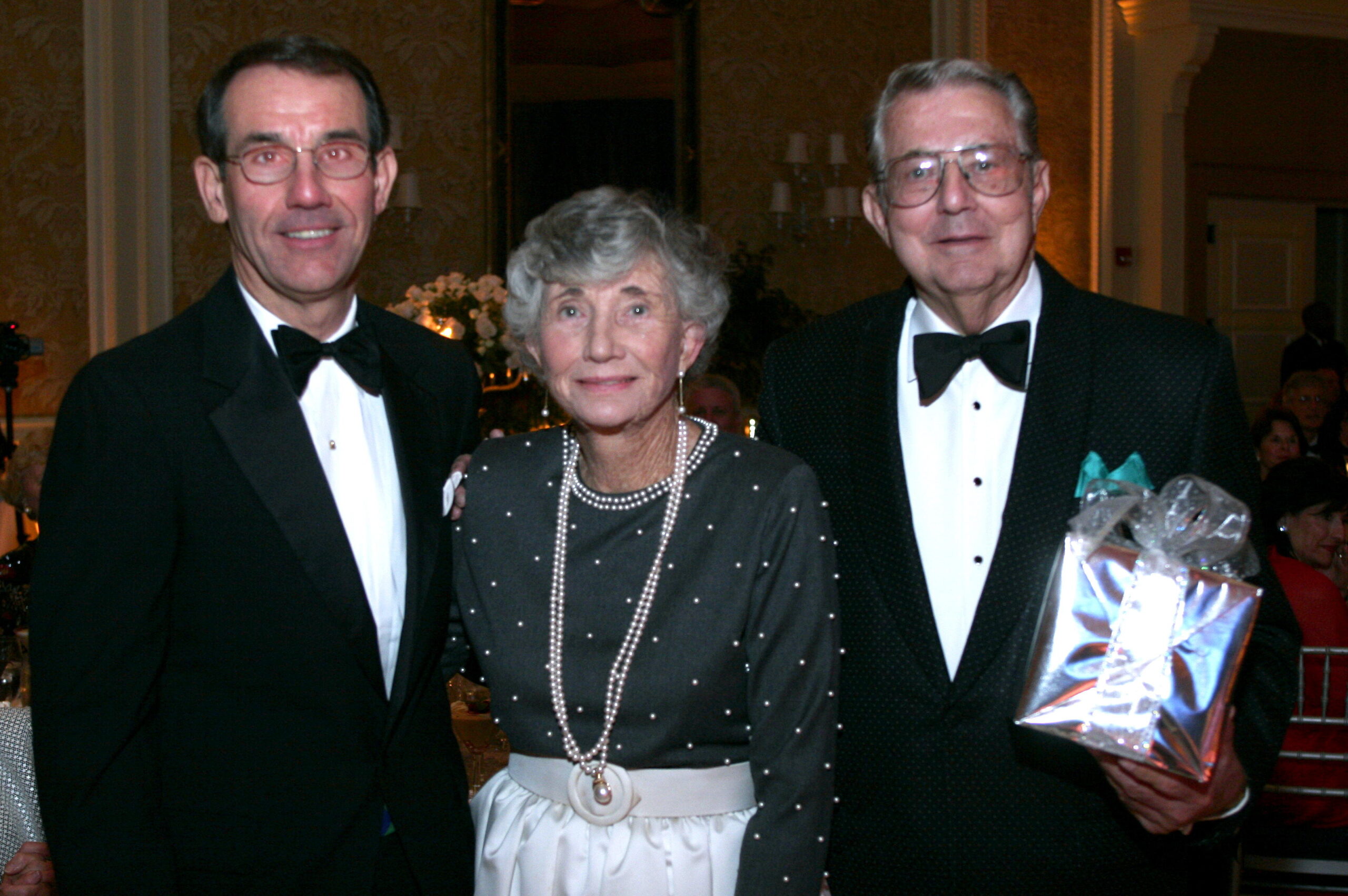 Mike, Mary Jane and Jack Hanley
---
We are deeply saddened to announce that John (Jack) Hanley passed away on March 15, 2018.
John Weller Hanley, 96, died Thursday, March 15, 2018, at Wake Forest Baptist Medical Center. Formerly a resident of Cincinnati, Ohio St. Louis, Missouri, Palm Beach, Florida and Vero Beach, Florida, Mr. Hanley was a resident of Winston-Salem and Roaring Gap, North Carolina.
Born in Parkersburg, West Virginia, he was the son of James Phillip Hanley, Erie, Pennsylvania and Ida May Ayers Hanley, Dayton, Ohio.
He is survived by his wife of 69 years, Mary Jane Reel Hanley, his sons, John Jr. and his wife Sondra of Santa Rosa, California; Michael and his wife Linda of Atlanta, Georgia, and their daughter Susan Myers and her husband Jim of Nashville, Tennessee. He is also survived by nine grandchildren, two step-grandchildren, seven great grandchildren and two step-great grandchildren.
He was a graduate of Pennsylvania State University with a B.S. degree in Metallurgical Engineering and the Harvard University's School of Business with an M.B.A.
Following graduation from Penn State, he joined the U.S. Navy serving primarily in the Pacific Theater. His final assignment was as Senior Watch Officer on the U.S. Chester, CA 27 with the rank of Lt. (SG).
After the war, Mr. Hanley graduated from the Harvard Business School and began a distinguished business career with Procter & Gamble Company, initially in California followed by assignments in Washington, Minnesota, Illinois and at P&G World Headquarters in Cincinnati, Ohio. After being the Executive Vice President of P&G, he was called to serve as President, Chairman and CEO of the Monsanto Company in St. Louis, Missouri. He served there from 1972 to 1983 before retiring from active business practice to concentrate on his private passion – preventing and treating substance use disorder.
During this thirty-five year period, Mr. Hanley served on the Boards of Directors of Armco Steel, Procter & Gamble, Southern Pacific, Monsanto, Citicorp and Citibank, May Department Stores and R.J. R Nabisco companies. His business career was also marked by membership on the Business Council and the Business Roundtable.
Recognizing his contributions on the national scene, he was awarded Honorary Doctor of Law Degrees from the University of Missouri, Maryville College, Notre Dame University, University of the Pacific, Washington University in St. Louis, and Webster College
His support of national charities was recognized as he was elected Chairman of the United Way of America after serving in essentially all of the chairs of the local and national organization. He helped form the first National Advisory Board of the Salvation Army and served as its first Chairman.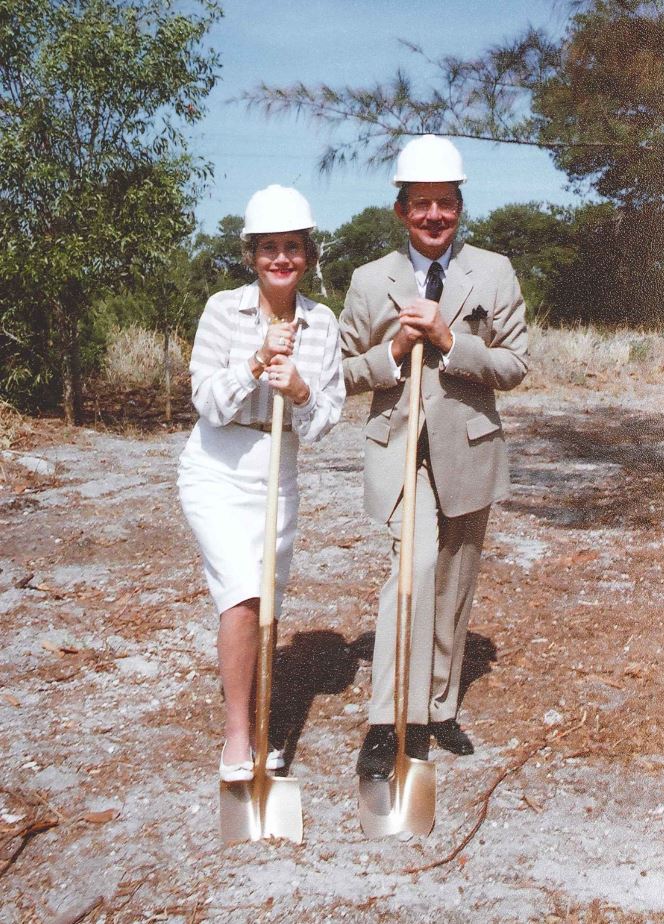 Mary Jane and Jack Hanley – Groundbreaking at Hanley Center
The post-retirement activity which occupied much of his time was built around his wife's and his family's interest in helping people suffering from alcoholism and drug dependency. Among the hall marks of his service in this area are the treatment centers he co-founded with his wife – the Hanley Center in W. Palm Beach, Florida and Gate Lodge in Vero Beach, Florida as well as the research laboratory at Pennsylvania State University.
His lifelong enthusiasm for golf saw him serving as a member or officer of Hyde Park Country Club, Cincinnati Country Club and Camargo Club, all of Cincinnati, Ohio, Old Warson Country Club, The Bogey Club, The Log Cabin Club, all of St. Louis, Missouri, The Lost Tree Club, The Piper's Landing Club, The Bent Pine Club and the Oak Harbor Club, all in Florida and the Pine Valley Club in Clementon, New Jersey.
In lieu of flowers, his family requests that you consider contributions in his memory to the Hanley Foundation. Click here to donate https://hanleyfoundation.org/donate/ or mail to 700 S. Dixie Hwy., Suite 103, West Palm Beach, 33401
Hanes Lineberry North Elm Chapel is assisting the Hanley family.  On line condolences may be made at www.haneslineberryfuneralhomes.com.