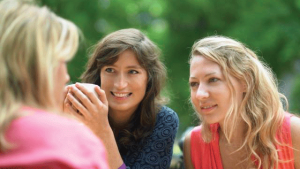 The mission of the Alumni Relations Department at Hanley Foundation is to foster and support a continued, nurturing relationship between individuals and their families who have completed treatment for substance use and mental health disorders and are on their individual paths to recovery.
Whether you are an alumni of Hanley Center, a family member or loved one, or simply someone in recovery looking for ways to give back, we look forward to so many wonderful opportunities to work with you.
The Hanley Foundation is a 501 (c)3 nonprofit organization, now separate from the Hanley Center at Origins. However, if you or your loved one received scholarship assistance to go through treatment at Hanley Center, our Foundation made those funds possible.
This is a new era for our Foundation as we have recently expanded our overall mission. Funds raised by Hanley Foundation now have a more broad opportunity to help families who otherwise could not afford the hope that comes with recovery. Other funding now gives our prevention and education teams the opportunity to work with even more school-age children, adults and caregivers throughout Florida to prevent substance abuse.
Alumni and loved ones are a unique audience in their understanding of the importance of a foundation dedicated to quality addiction treatment access and substance abuse prevention. You understand the stories behind statistics like "addiction conservatively impacts one in four Americans." Unfortunately, most of you know all too well how important prevention and education efforts are in our communities.
Hanley Foundation's prevention funding is providing programming to serve students in 15 Florida counties and growing—offering local "alumni" many opportunities to get involved with the Foundation. Whether it's through a 12th step commitment to service, volunteering with us or supporting our mission by attending a Foundation sponsored event, we honor your fellowship, your service and your support!
Services offered by the department include a variety of events and activities, free and open to all alumni and their families; and special events such as the annual Hanley Foundation Alumni Reunion.  Alumni activities are generally informal in nature, and are supplementary to, not a replacement for 12 Step or other important recovery programs.
We will soon be starting Chapter Groups throughout Florida and in other areas.  If you would like to be a host in your area or to be more involved with an area, let us know!
For more information, contact (561) 268-2355 or email Alumni@hanleyfoundation.org.