Joshua S. Horton, J.D. Bio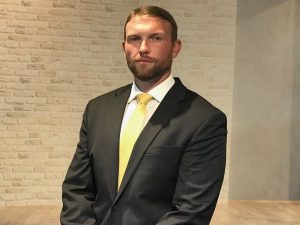 Joshua Shane Horton is the Owner and Founder of The Joshua S. Horton Law Firm, PA, specializing in victim's rights as sufferers from Substance Use Disorder. He is originally from Atlanta Georgia. Mr. Horton received his Bachelor's Degree in Sociology from the University of Mississippi (Ole Miss), and was awarded the Julien Tatum award for outstanding graduating senior in the Sociology Department. He simultaneously graduated from the Sally McDonnell Barksdale Honors College magna cum laude, with his Honors Thesis topic of Rehabilitation vs. Incarceration for nonviolent substance use offenders. Mr. Horton was inducted into Phi Beta Kappa (Beta Chapter Mississippi), and Phi Kappa Phi Honors Societies. Mr. Horton then graduated cum laude from Ole Miss Law with a certificate in criminal law. He has worked with government officials in both Mississippi and Florida, including the prison commissioner and re-entry council on reform efforts within the criminal justice system. Mr. Horton was appointed to the Mississippi Bureau of Narcotics Opiate Task Force by Governor Phil Bryant and works continuously on efforts to improve the lives of citizens suffering from substance use disorder. His efforts and story have garnered local, national, and international media attention for his innovative policy solutions. Mr. Horton has given TED Talks on Criminal Justice Reform and Substance Use Disorder and his article, DRUG WAR REFORM: Criminal Justice, Recovery, and Holistic Community Alternatives was published in The Criminal Law Bulletin, which has been ranked by Washington & Lee Law as the #2 criminal law journal in the United States. He is also the Founder of Southern Recovery Advocacy, a non-profit based out of Oxford Mississippi and currently serves on the Opioid Response Steering Committee, for Palm Beach County, and is the Director of Public Policy for the Hanley Foundation.
Hanley Foundation's Director of Public Policy, Joshua S. Horton, weighs in on addiction in the age of Covid-19 and police brutality.